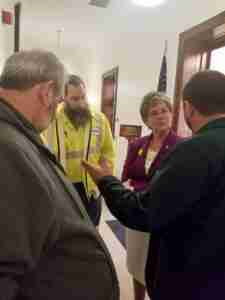 Members of UE Local 170, the West Virginia Public Workers Union, went to the Capitol on Presidents Day, a day off for many state workers.
We met with lawmakers to discuss our bills and shared our displeasure with negative bills. We also discussed the pending DOH Mass Grievance, corruption within the DOH, and our continuing opposition to the proposed privatization of state hospitals.
Members attended a training on privatization after lobby day. Those in attendance included UE General President Carl Rosen, UE Eastern Region President Donna Morgan, and UE Director of International Strategies and Co-Director of Education Kari Thompson.